As one of Brett's birthday gifts, I took him on a weekend getaway to Gualala, California in Mendocino County. I wanted to give him a chance to think and plan for his future goals with school and work. A cottage by the beach seemed like the perfect place for that kind of thinking. We drove up the beautiful winding highway 1 to Gualala where we checked into the Russian-inspired St. Orres hotel.
As we were checking in, we met Rosemary, the owner of St. Orres, who said to us, "You're staying in tiny Fern Canyon? How about a free upgrade?" We said "Sure! Why not?" She gave us a really nice cottage called Treehouse that was more than twice the size of little Fern Canyon, had a fireplace, sitting area, deck with ocean view, king-size bed, tiny kitchen with a mini fridge and of course our own bathroom. It was wonderful.
After settling in, we drove to "town" to get dinner at a local place called Pizzas and Cream. The town of Gualala is named after the Pomo indigenous people. Gualala means "riverside" or "where the river meets the sea." It's surrounded by beautiful, tall redwood trees and has a great view of the Pacific ocean since it's right on the coast. We didn't do much that night since it was rainy and dark (and I mean dark with no street lights!). We slept rather well that night until ba-BOOM-BOOM-BOOM…rumble-rumble-rumble. Thunder. Lightning and thunder. Now, we have both lived in the Midwest where thunderstorms are frequent, but it's been a while since we have heard a thunderstorm in California (this might have been the first thunderstorm we've known of here in 2 years). I was scared. I snuggled into Brett and put the covers over my head. Luckily, it didn't last very long.
It wasn't raining the next morning so we took a little walk around our cottage to check things out a bit. Brett took some pictures of the beautiful redwoods.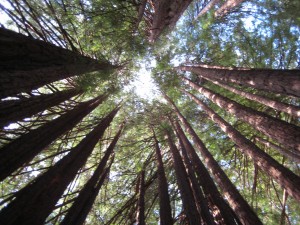 Breakfast was delivered right to our door in a little wooden box.
It was as good as it looks! It started raining soon after we came in from our walk, so we spent the morning thinking/planning. We started a fire in the fireplace and settled in next to the warmth.
As we were sitting by the fire, the rain turned to hail! We haven't seen that kind of weather in California…ever! When the hail stopped, we drove back to town to get some lunch.
The hail looked like snow! It was pretty big too. We got a sandwich at Surf Supermarket and explored the nearby shops and boutiques. Then, we drove up to Point Arena to see their Lighthouse. It was closed when we got there, but we took a picture from a distance.
We stopped along the way to take pictures of the beautiful scenery. We would have taken more, but it was cold and rainy.
We had some barbecue for dinner at a local place called "Bones" and headed back to the cottage from there. Breakfast was delivered to our door again the next morning only this time, we had a little friend who wanted to come enjoy it with us.
We packed up our things and noticed that it was a beautiful day outside. No rain. Bright blue skies. Warm and sunny. Too bad we missed all the good weather. But it was still great because if the weather had been beautifully sunny and warm, we might have been too tempted to play the day away and we really needed to plan. We took advantage of it the best we could by stopping to take pictures along highway 1 and picking up some saltwater taffy in Bodega Bay.
Overall, it was a wonderful weekend getaway! Mendocino County was charming with tiny towns dotted along the coastal highway 1. We loved staying in a cozy little cottage surrounded by redwoods and so disconnected from the hustle and bustle of life. It was totally relaxing and completely rejuvenating. We look forward to going back.